Cassy Dorff
Assistant Professor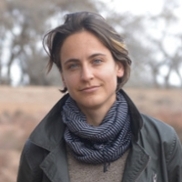 Email:  cdorff@unm.edu

 
 

Office:  SSCO 2074
Research Area/s:
Comparative Politics,  International Relations,  Methodology
Biography:
Dr. Cassy Dorff earned her BA from the University of Texas (2010) and her MA and Ph.D. in Political Science at Duke University (2015). During her time at Duke, she worked with the Crisis Prediction Project (CRISP) under the direction of Michael D. Ward.  In 2016, she was a research fellow at the Sié Chéou-Kang Center for International Security and Diplomacy at the University of Denver. Professor Dorff's scholarship is focused around understanding the ebb and flow of political violence and political contestation around the globe; her recent work highlights how civilians survive contexts of insecurity. She teaches courses on civil conflict, political violence, and social science research methods. Professor Dorff's research and teaching relates to topics spanning the areas of international relations, comparative politics, and methodology. 
Research Interests
Professor Dorff approaches the study of civil conflict and political violence using a variety of methods including surveys, forecasting approaches and network analysis. Her current research agenda is focused on civilian agency and survival in conditions of armed conflict. She is also working on projects related to victimization, the evolution of criminal conflicts, and new network science approaches for political scientists. Among other outlets, her work has been published in the American Journal of Political Science, International Interactions, and Political Science Research Methods. 
Selected Publications
 "Violence, Kinship Networks, and Political Resilience: Evidence from Mexico" Journal of Peace Research. (2017): 1-16. 
"When do States Say Uncle? Network Dependence and Sanction Compliance" with Shahryar Minhas. International Interactions. (2016).
 "Irregular Leadership Changes in 2014: Forecasts using ensemble, split-population duration models" with Andreas Berger and Michael D. Ward. International Journal of Forecasting. (2016).
 "Ensemble Forecasting of Irregular Leadership Changes" with Andreas Berger and Michael D. Ward. Research and Politics. 1.3. (2014).
"Networks, Dyads, and the Social Relations Model." With Michael D. Ward. Political Science Research Methods. 1.2 (December, 2013): 159-178.
"Anti-Government Networks in Civil Conflicts: How Network Structures Affect Conflictual Behavior." with Nils W. Metternich, Max Gallop, Simon Weschle, and Michael D. Ward. American Journal of Political Science. 57.4 (October, 2013): 777-1028.
"Learning from the Past and Stepping into the Future: Toward a New Generation of Conflict Prediction," with Michael D. Ward, Nils W. Metternich, Max Gallop, Florian M. Hollenbach, Anna Schultz, and Simon Weschle.  International Studies Review (2013) 15, 473–490.