Robert McDaniels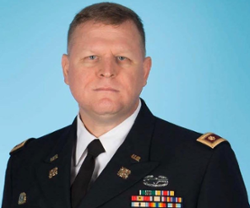 Biography:
Graduate School: PhD – Political Science, University of New Mexico
Concentration: American Politics and International Relations
Research interest: Disasters and Global Security and Strategic Studies
Graduate School: MS - Emergency Management, Jacksonville State University
Undergraduate School: BS - Liberal Arts, Excelsior College
Davenport University: Diploma Emergency Health Services – Paramedic
Robert McDaniels is a third-year doctoral degree student in American Politics and International Relations. Robert's research foci include disaster management, international organizations, and security and strategy studies. His current work investigates the relationships between climate disasters and conflict, and the effectiveness of U.S. security cooperation. Before enrolling in the graduate program, Robert had a distinguished career in the Army, the Army National Guard, and disaster and emergency management. His experiences motivated him to progress international humanitarian problems and public policy research. Robert currently serves on active duty with the U.S. Army as a subject matter expert in military security issues in Europe and holds an adjunct appointment with the George Washington University School of Medicine.
Robert holds both a bachelor's degree in Liberal Arts, Sociology, and a master's degree in Emergency Management from The Jacksonville State University. Robert has been the recipient of numerous professional and military awards. He has presented research at the FEMA Higher Education Conference, the Natural Hazards Center Workshop, the International Studies Association Annual Convention.