Poli Sci Students Named Mellon Mays Undergrad Fellows
Departmental News
Posted:  May 30, 2017 - 12:00am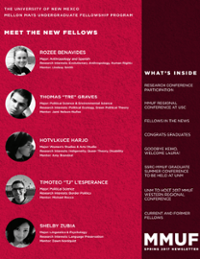 Two political science majors, Thomas "Tre" Graves and Timoteo "TJ" L'Esperance, were selected to participate in the Mellon Mays Undergraduate Fellowship Program at the University of New Mexico. Graves studies political science and environmental science. His research interests include political ecology and green political theory. Dr. Jami Nelson Nuñez will serve as his mentor. L'Esperance studies political science and is primarily interest in border politics. He will be mentored by Dr. Michael Rocca.
The Mellon Mays Undergraduate Fellowship (MMUF) seeks to address the problem of underrepresentation in the academy at the level of college and university faculties. It does so by increasing the number of students from underrepresented minority groups who pursue PhDs and by supporting the pursuit of PhDs by students who may not come from traditional minority groups but have otherwise demonstrated a commitment to the goals of MMUF. The MMUF program is designed to encourage fellows to enter PhD programs that prepare students for professorial careers.
Fellows receive stipends ($1,800/semester) during the academic year so that they may have more time to focus on their academic work and research. Fellows are also awarded summer stipends ($3,900) after the sophomore and junior years to conduct research.
Read more about the fellowship here.