Arts & Sciences Dean Meets with Fred Harris Interns in D.C.
Departmental News
Posted:  Feb 26, 2017 - 12:00am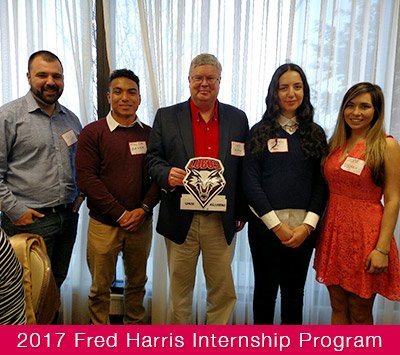 College of Arts and Sciences Dean Mark Peceny attended the Washington DC UNM Alumni Chapter Lobo Day Brunch on Sunday, February 26. Over 50 UNM Alumni living in the DC Area were able to connect with the Dean and were thrilled to receive a campus update. 

Also in attendance were several of the Fred Harris Congressional Interns. (Pictured here with Dean Peceny From left to right: Joshua Spann, Malik Baker, Isabella Del Frate and Jacqueline Luchini. Also in attendance were: Ryan Ansloan and Aubriana Knell) The internship program is based at the Department of Political Science where the Dean served formerly as Chair. Most of the students are Political Science majors and some have taken classes with the Dean so they enjoyed a happy reunion with a previous instructor. 

The event took place at the Fort Belvoir Officers' Club and was hosted by long time DC UNM Alumni Chapter President Larry Harris '64.
Read the full story here.
Beginning with the 2006 fall semester, The University of New Mexico established a scholarship program to allow its students to travel to Washington, DC to learn firsthand how federal policy is formulated in our nation's capital. The program's objective is to provide undergraduate students who have an interest in public policy the opportunity to participate in public service by observing and contributing to the policy-making process. The internship experience helps students understand the challenges and rewards of public life and develops their leadership skills.
Each semester, up to five selected interns travel to Washington, DC to work in NM delegation member offices. We anticipate many will use their internship experience as a springboard into careers in our nation's capitol, while others will choose to continue their education by entering into graduate school.