Kendra L. Koivu
Departmental News
Posted:  Sep 30, 2019 - 10:30am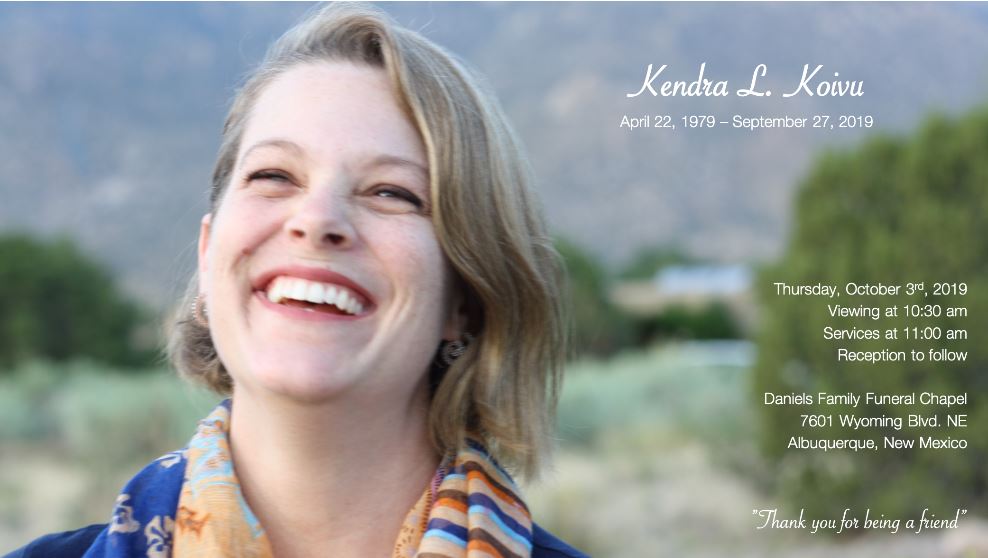 Kendra L. Koivu began her career in the UNM Political Science Department in the Fall of 2012 after completing her Ph.D. at Northwestern University. In 2013, just after the birth of her second child, Professor Koivu was diagnosed with metastatic breast cancer. Since then, and in spite of her prognosis, she wrote a book, published several scholarly articles, became an important voice in the methodology of Political Science, mentored many students, and was granted tenure and promotion at UNM in the Spring of 2019. 
Professor Koivu made a home in Albuquerque with her husband, Tony Aronica. This fall, she was able to see her daughter off to Grinnell College and her son into Kindergarten. Her body finally succumbed to the cancer she endured for five years on the night of September 27, 2019 at the age of 40. She will be dearly missed by her friends, colleagues and students at UNM and she will be remembered for her striking wit, tenacity, and extremely gifted academic mind. 
Funeral services will be held Thursday, October 3, 2019. Daniels Family Funeral Chapel at 7601 Wyoming Blvd. NE in Albuquerque, New Mexico. 
Viewing at 10:30 am
Services at 11:00 am
Reception to follow
In lieu of flowers, please consider donating to a scholarship fund established in her honor.