Why ABQ?
"Both ancient and cutting edge, equal parts cool and quaint, the city is an oasis in the high desert, full of people with rich histories and inspiring ideas you won't find anywhere else. There is truly no other city like it" (Burkehart & Moore, Southwest Magazine)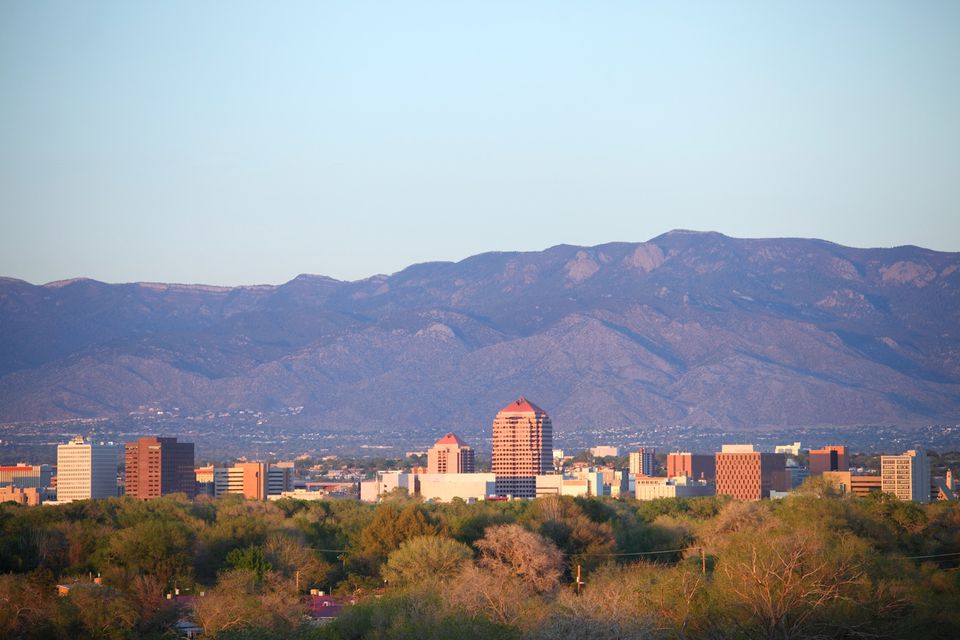 Photos: DenisTangneyJr/Getty Images                                                                                                                                                    
It doesn't take much time in Albuquerque to realize you've found yourself somewhere special. It's a city characterized by contrast, where adobe homes and pale cacti make the impossibly blue sky and watermelon sunsets all the more striking. At the nexus of tradition and innovation, centuries of history and culture remain vibrant among world-renowned research facilities, an emerging community of startups and entrepreneurs, and an expanding urban landscape. 
Whether you're an urbanite, or more of the outdoorsy type, Albuquerque has you covered. At the heart of the "Land of Enchantment", Albuquerque provides easy access to New Mexico's nearly limitless opportunities for outdoor adventure. Nestled at the base of the Sandia Mountains, it's just minutes away from hiking trails, ski resorts, rock climbing, and more. You can even escape (on foot, or by kayak) to the Bosque and the Rio Grande without leaving the city limits.
But fear not, this doesn't mean you'll have to compromise the benefits of city life. Consistently ranked as one of the country's top arts destinations, Albuquerque is home to numerous museums, galleries, public art installations, and performance spaces. Participate in a Friday night ARTScrawl or spend Sunday morning enjoying classical music at Chatter. See a critically-acclaimed show at UNM's Popejoy Hall or check out Albuquerque's local theater scene, such as the Tricklock Company.
We're known to throw the best fiestas, so rid yourself of your worries the New Mexican way, celebrate Dia de los Muertos at the annual Muertos y Marigolds parade, or watch in awe as hundreds of brightly-colored hot air balloons fill the skies at the world-renowned Albuquerque Balloon Fiesta.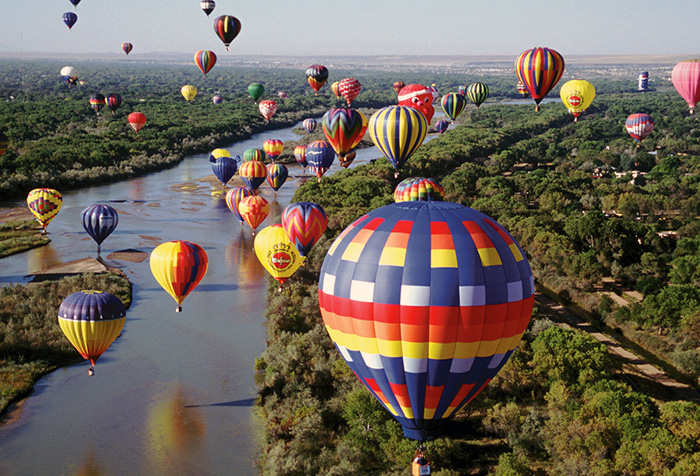 Oh, and did we mention the food? Dining out in Albuquerque can mean $2 tacos from a nearby taquería, or a farm to table experience at an upscale restaurant, and everything in between. You should determine your chile preference early (red, green, or Christmas), so as to fit in with the locals.
History
Albuquerque proudly celebrated its Tricentennial in 2006, but our roots go back much farther. It is important to understand all of the people who have influenced the area to fully appreciate the complexity of the history of Albuquerque. The Rio Grande Valley has been populated and cultivated since as far back as 2,000 B.C. The Pueblo people who lived in the area when Europeans arrived had a sophisticated culture and advanced skills in stone masonry, ceramics and a wide range of arts and crafts.
The first Spanish explorers arrived in Albuquerque in approximately 1540 under General Francisco de Coronado, and later expeditions brought settlers deep into New Mexico's river valleys. In 1706, a group of colonists were granted permission by King Philip of Spain to establish a new villa (city) on the banks of the Rio Grande (which means big or great river.)
Abbreviated from Visit Albuquerque.
By the arrival of the railroad in 1880, the "Duke City" was already a boom town. Albuquerque expanded drastically during and after World War II. The city invited the federal government to establish an aviation installation in 1939, which became Kirtland Air Force Base. Now occupying 80 square miles and employing some 25,000 employees, Kirtland has been an anchor of the Albuquerque economy, along with its tenant, Sandia National Laboratories.
Albuquerque boomed again in the 1980s, when the Intel Corp. and companies like it took advantage of a favorable business climate, an appealing quality of life and competitive incentives. The city's technology sector continues to be robust and growing.